Mobile-first approach, fast loading, and visual commerce are the undisputed leaders among the eCommerce trends in 2021. It seems that modern consumers are so used to social media that online stores are becoming more and more like them. And today, I want to talk about one super successful invention of social networks – stories, which are infiltrating all popular platforms today.
Born in Snapchat in 2013, stories captivated all large social platforms in 7 years, including even the business-focused LinkedIn and Slack. Moreover, this format didn't stop on the social networks and inspired Google to develop a new web technology called Web Stories.
What on earth are Web Stories?
Web Stories are a new format of web pages, consisting of successive screens. They can replace each other automatically or via the user's taps. It includes images, video, audio, gifs, 360 images & videos, explorable by gyroscope; text, shapes, and all those elements can be animated. In general, this is a mixture of a classic presentation with the usual stories from social networks. The difference is that you can share your Web Story anywhere across the web, and it will be live forever.
That's it. However, if you want to study this topic in more detail and see how it might look, take a glance at the Web Stories site from Google and read what their creators say about this format.
Now Web Stories are actively gaining popularity among bloggers and news portals. Many analysts call this format a winner in the race for consumer attention. But what does all of that mean for eCommerce? Creating Web Stories can help an online store improve several business metrics at once – traffic from Google, ad campaign conversions, average check, loyalty, and retention of existing customers. And this article is just about how exactly to make it.
Product detail pages in Web Stories format
Let's start with your product detail pages (PDP). Every online store has PDP, and if you keep your eye on the current trends, you probably already have prepared diversified high-quality visual content. It's time to turn your images, videos, text into immersive Web Stories and to use them as:
Pre-landing pages
Web Story about each of your products will have its own link that you can easily insert into your ad, be it Google Shopping Ads or a sponsored post on social media. Imagine a mobile user clicks on your Facebook ad, and instead of the standard, not always a well-thought-out mobile version of the usual PDP, he finds himself in the immersive world of a Story!
Though, why imagine? Click on the following ad example on your smartphone to see how it works 👇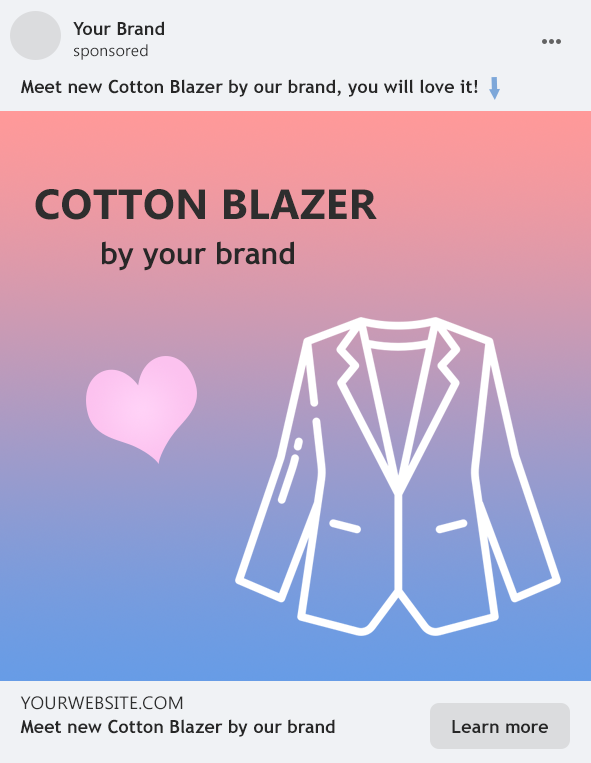 In this case, the Web Story looks so organic and natural that the user might not immediately realize that he has left Facebook. Then, it is up to you: you can lead a potential customer to a standard PDP, or right away to the shopping cart/checkout, or/and push him to share your Story anywhere on the network.
Moreover, Web Stories are good as pre-landing pages not only for their immersive effect. They are fast, Google Web Vitals compliant, and designed specifically for mobile gadgets. Have you heard that more than half of all eCommerce sales will most likely be mobile by the end of this year? And these sales will definitely happen in the fastest and most optimized for mobile gadgets online stores. As a programmer, I know firsthand how difficult and time-consuming it can be to optimize an existing, large, and because of that cumbersome store, so… Just let Web Stories simplify your task!
Embedding Web Stories on other pages
Embedding Web Stories of your PDP on other pages on your website is a great way to enhance the customer experience, motivate visitors to spend more time on your site, and explore more products.
Thus, you can draw more attention to certain products. For example, bestsellers or discounted products. For this, just place their Web Stories on the Home page, in a special section, or on any listing page (category, search results, etc.) And also, you can place PDP Web Stories in the related products section. Draw more attention to them, and thereby increase the average check!
Such embedding can be done through the ordinary links/buttons/pictures or the Web Story player. And if we aim at attracting attention, it is better to use the second option. It looks something like this (all the following stories in this article are embedded using the Web Story Player):
However, using PDP Web Stories may not only improve the consumers' experience but also increase the traffic to your website. Firstly, the user's session duration is a Google ranking factor. The more time consumers spend tapping your Stories, the higher your site climbs in search results. Secondly, Web Stories are separate web pages with their own meta-schemas, which increases your chances of being found on Google. And thirdly, the cherry on top is the opportunity of getting into Google Discover, which recently introduced a special section for Web Stories in USA, India, and Brazil.
The lucky ones who successfully enter Google Discover receive an enormous surge in traffic. And as long as the competition in this segment is low, you can easily become such a lucky one!
As you can see, once created PDP Web Stories can bring various benefits to an online store, both in conversion and traffic. But we'll touch upon that later, and now let's look at other Web Stories use cases for eCommerce.
Collections and Bundles in Web Stories format
Let's move to the next level and consider the possibility of creating Web Stories not for one but for several products simultaneously. This bundle/collection thing has long been loved by eCommerce representatives for its ability to increase the average check. After all, whatever the consumer wants to buy, not a single product in the world can exist in a vacuum. Bought a phone – need a charger and headphones; bought a top – need a skirt, and so on. So, why don't we collect the best visual content on all of these products into one captivating Web Story? And use it for:
Cross-selling and related products presentations
For this, embed your bundle Web Story on each product page, in the section of related products/you may also like/others also bought. Or even right in the shopping cart, highlighting that the entire bundle will cost less than all these products separately. Again, we can do it with a link, a button, a picture, a Web Story player.
Imagine how gorgeous it might look if you prepare an independent image for the bundle and present in a Story a complete look from all these clothes on a model!
Promotions
Of course, collections and bundles in Web Stories format can be used as pre-landing pages for advertising in the same way as PDP. Furthermore, such Web Stories can serve as announcements of a new collection launching, a sale, etc. Again, we can embed them wherever our hearts desire: on the Home page, listing pages, product detail pages… You already know how to embed them. And here's another idea for consideration – to make a link/button to the Web Story in an email about a new collection/sale to existing customers. It brings us to retention issues, and we will touch on this topic again a bit later.
Thus, the main feature of Web Stories for multiply goods is a separate screen for each product. From each such screen, we can lead the consumer to a regular PDP or Web Story of this product (if you liked the above case). And from the last screen, the user can go to the bundle/collection page, if there is one, or instantly to the shopping cart with all the added products.
However, an online store does not need to have collections/bundles to try out this case. You can use, for example, top products from some category. It isn't about increasing the average check but can provide a comprehensive visual demonstration of the assortment of certain goods. Just as in the previous examples, we put a link to a specific product on each screen, and from the last screen, we lead the consumer to the category page.
Action required Web Stories
This Web Stories group is special in giving users the ability not only to tap screens but also to enter certain data directly into the Story. It is where the real interactivity begins, and by the way, the Web Stories technology creators introduced this opportunity quite recently.
Despite the general technical features, eCommerce can use such Web Stories for different purposes.
Reviews
It is no longer a secret for anyone that having positive reviews from consumers on a product page significantly increases its conversion. Unfortunately, most people more willingly write a review when they are disappointed with a purchase. As for positive reviews, we need to kindly ask satisfied customers and make the goods evaluation process as simple as possible. That's exactly what I did in an example below (please feel free to choose any answers to test how it works):
In such an entertaining and simple format, you can ask the customer a few questions about the product, website, delivery; give several options for answers/ratings. Then, send him the link to Web Story via email, messenger, SMS. As you already have this customer ID, you don't need to force him to register. With a little effort from programmers, you can collect the answers and integrate them into the product page in the best possible way.
Quizzes
In this world, nothing can be said to be certain, except death, taxes, and funny personality quizzes. People love them, and eCommerce has already learned how to benefit from this cute addiction. For example, a quiz on choosing a suitable product is becoming more and more popular. We only have to transform it in the Web Stories format, and voila!:
Such entertaining quizzes remain attractive to new potential consumers and existing customers either. Therefore, you can boldly use them as pre-landing pages to gain traffic, embed them on website pages to prolong user sessions and raise product conversions, and send links in emails or messages to existing customers for better retention.
Since Google continues to develop the Web Stories technology, I dare to assume that the interactive components will be improved and acquire new features shortly. Therefore, eCommerce representatives should be on the lookout. Direct interaction with the consumer is a crucial thing in any sale, isn't it?
Summary
Well, it has been a long road since the beginning of my article, so I feel it is my duty to summarize.
Web Stories are a new format of web pages from Google, developed for mobile users and replete with visual effects.
Web Stories can help eCommerce with:
attracting new traffic due to the emergence of additional fast and mobile-first web pages that visitors can share; getting into Google Discover thanks to the separate and still low-competitive section for Web Stories;
increasing conversions of advertising pre-landing pages due to immersiveness, an abundance of visual commerce elements, speed of loading, and optimization for mobile users;
increasing average check by showcasing bundles, collections, and related products in an eye-catching, vibrant format;
improving retention, stimulation of next purchases through interaction with customers in an engaging and convenient interactive manner.
eCommerce can create Web Stories for:
product detail pages;
several products at once as a collection, bundle, category;
interaction with the consumers – reviews, quizzes.
Now you may be thinking something like, "Well, I got it. Web Stories might be a benefit for my store, but who is going to deal with it? We have thousands of products, the content team will go crazy, and programmers always have something to do"
And if so, I have something for you. My company, Product Stories, provides services on the integration and automatic generation of Web Stories for eCommerce. So, you are welcome to find out more, or get a quote right here by filling out this form: